Mustang Parts: 2015+ GT350 Steering Wheel
Do you want to add some race-inspired styling to the interior of your S550 Mustang? The Shelby GT350 Steering Wheel from LateModelRestoration should do the trick! This steering wheel is more aesthetically pleasing than the factory wheel. The most important aspect in our opinion is the way the steering wheel makes the driver feel more connected with their Mustang.
First impressions…
First you notice the thickness of the steering wheel in your hands. Next is the soft touch of the alcantara. Not only is it pleasing to the touch, but when you're doing some spirited driving it helps you grip the steering wheel better. Although the steering wheel is the same circumference as the stock steering wheel, the flat bottom is a nice touch. We would have liked it to be slightly shorter on the bottom to give it that authentic race car feel. This would add some more leg room for the taller guys or gals. Some other small touches that really bring it all together are the honeycomb style stitching, combination of leather and alcantara along with the wheel center stripe.
If you are worried that the install may be time consuming, don't be. All of the factory buttons and harnesses switch over to the new steering wheel with ease. Also, for all of you automatic drivers, yes this mod will work with your 6R80 transmission. Unfortunately it wont provide you the excitement and hair on your chest that banging gears in a manual transmission will.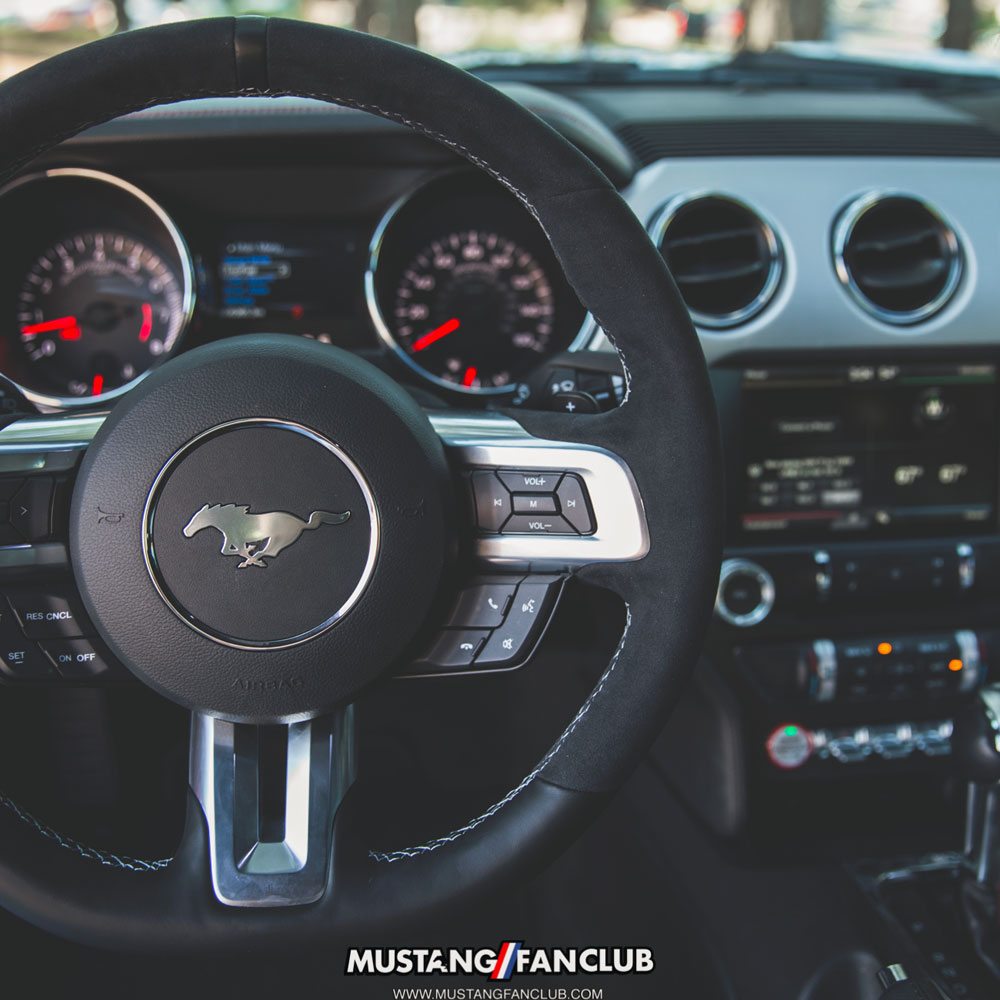 Final thoughts
For more information on how to install this steering wheel on your S550, please watch the video above! Huge shout out to LMR for the awesome install video. I purchased my GT350R Steering wheel from their website a while back, and I have enjoyed every minute I have had it on my 2016 S550 build. My only gripe with any alcantara wheel is after 50K miles, you are going to notice more wear from use and the natural oils in your hands then you would with a standard leather steering wheel… I must say though, after having this thing on my S550, the pros far surpass that one small con.
If you're looking to purchase one today, the steering wheel can be found at LateModelRestoration. Also available, is the Shelby GT350R Steering wheel which has the same look and feel except this steering wheel has red accents instead of the white accents shown on the regular GT350 steering wheel above.