What we know about the 18' Mustang!
Below you will find information we have gathered from various social media and news outlets. This information could be true or it could possibly never be seen during the 18′ production. Take a look at what we have found and let us know what you think in the comments below!
Let's start off with saying R.I.P. to the V6. The 3.7L "Cyclone" engine made its mark in Mustang history but sadly it's time for it to be replaced by EcoBoost technology.
Color Options:
-G1 SHADOW BLACK
-H3 TRIPLE YELLOW
-J7 MAGNETIC MET
-L6 KONA BLUE
-NL ORANGE FURY
-N6 LIGHTNING BLUE
-PQ RACE RED
-RR RUBY RED TINT
-R3 ROYAL CRIMSON
-UX INGOT SILVER
-YZ OXFORD WHITE
SHELBY Color Options:
-G1 SHADOW BLACK
-H3 TRIPLE YELLOW
-JX LEAD FOOT GRAY
-J7 MAGNETIC MET
-L6 KONA BLUE
-NL ORANGE FURY
-N6 LIGHTNING BLUE
-PQ RACE RED
-RR RUBY RED TINT
-YZ OXFORD WHITE
New color options such as, Orange Fury, Lead Foot Gray and Royal Crimson will be available on the 18′ Mustang. Say so long to Grabber Blue!
Factory Options:
-19B Dual Exhaust
-67G GT Perform pkg
-673 Perform pkg 2
-44U 10 speed Auto (listed on Eco and GT)
-68C Carbon Sport pkg (listed Eco and GT)
-96B Magne-Ride damp (listed on Eco and GT)
We see two Performance Packages available for the 18′ Mustangs. There is a possibility that one is your standard package with Brembos, unique styling cues and gears. While, the second Performance Package option includes more track oriented features such as the Magne-Ride suspension and more aggressive aero. Lastly, we see a 10-speed automatic transmission listed as an upgrade. We know that Ford and GM have been working together to create this transmission. It will make an appearance in the new 450hp+ Ford Raptor and 650hp Camaro ZL1. From the looks of it, this 10-speed auto can hold some power! With that being said, could we possibly see our first Shelby GT500 with an automatic transmission?
What will be "refreshed" on the 2018 Mustang?
With the anticipation of the 2018 Mustang release building up, we wanted to give everyone an updated list of information of what we have gathered about the 18′ Mustang. Topics include options, colors, potential new engine specs, exterior appearance changes and much more! Leave us a comment below with what you're most excited about on the 2018 Mustang refresh and please share with your fellow Mustang enthusiasts and owners!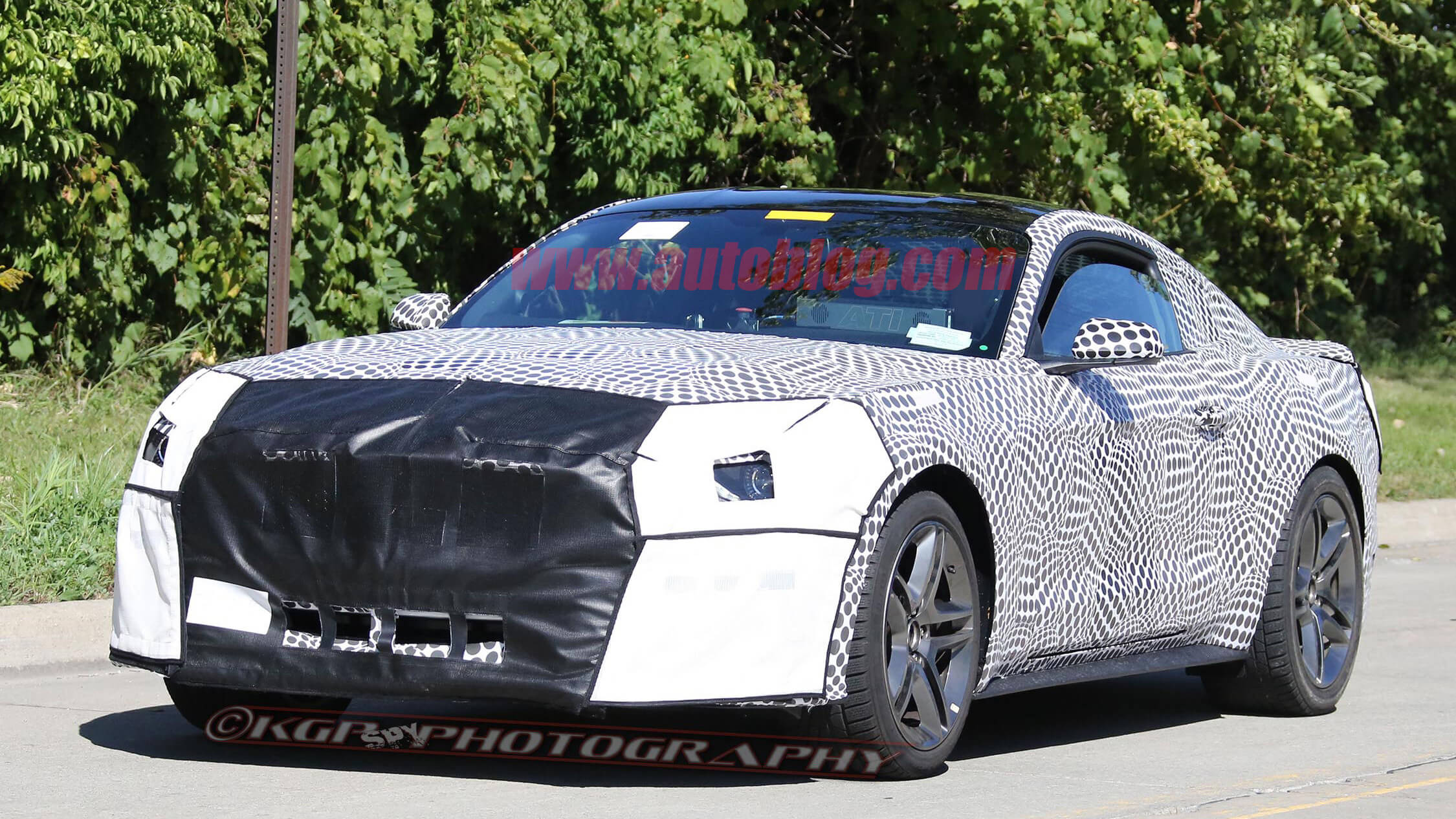 Updated headlights! We can see a LED halo surround the HID projector. Will these fit the previous 15-17 models?
Another addition to the headlights could be more angular LED "gills". They definitely look more aggressive than the current LED bars on the 15-17 S550 Mustangs
A new rear spoiler style could be available?
If the pattern is correct, we should expect to see an updated front fascia as they did between the 11-12 and 13-14 years of the S197.
Some spy shots show a rear valence completely missing from the vehicle and other images show a rear diffuser with some extra slats added to it.
A few things stand out to us from all of the spy photos that have been circulating around the internet. First off, let's start with the headlights. We can notice a circular LED housing surrounding the headlight project. One thing we are most excited about is the aggressive, angular LED "gills". We really hope that these styling cues stay for the production models. As of now, there aren't any shots or hints of what the front fascia looks like.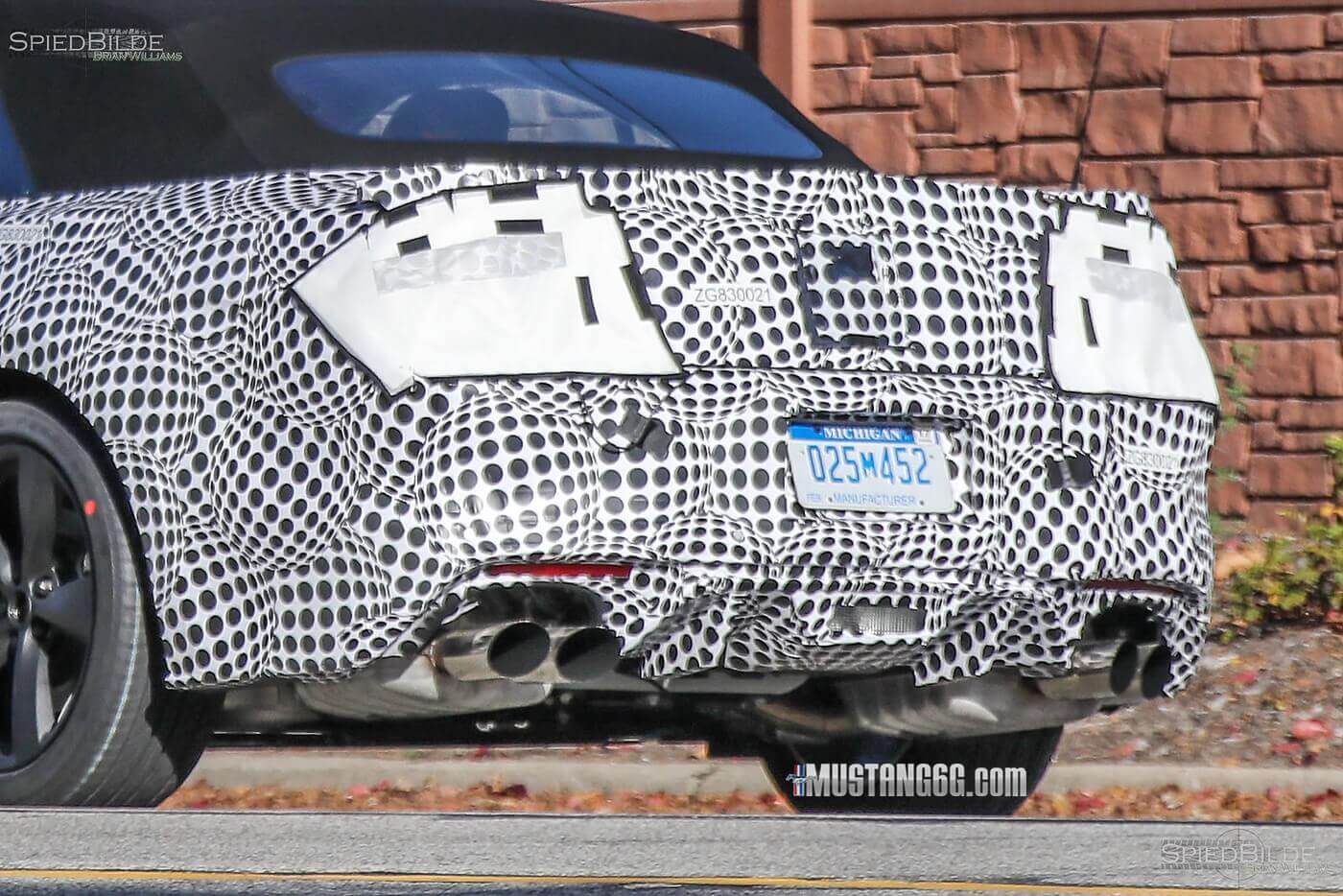 The rear diffuser looks like it has some more aggressive aero slats added!
Quad exhaust tips are a known option for the upcoming 2018 Mustangs.
Since the headlights have been updated, should we expect to see a difference set of taillights as well?
A new rear spoiler could be seen as an option as well? Maybe for the Performance Package 2 option?
Could there be new rear deck lid emblems on the 18-19′ Mustangs?
If history proves itself correct, we should see an updated rear diffuser along with the front fascia. Just like what was done for the 11-12 / 13-14 Mustangs, there were slight modifications to the exterior. We know that the quad exhaust tips will be a factory option. Will they allow Roush Performance ActiveExhaust as an option as well? Some other changes we can see are on the rear diffuser. It looks like there is some added aero slats and wider exhaust openings for the quad tips. Another thing we noticed, was the rear spoiler. On some of the spy photos we have seen a "duck-bill" styled spoiler. Could all of these options above be included on the Performance Package 2 option? One final thing we are curious about is if the taillights have been modified at all?