AWE: Performance Unlocked!
AWE has one vision: To Unlock Performance. Since 1991, AWE has been designing, manufacturing and distributing in the aftermarket parts industry. We have always heard of AWE within the euro communities so their products must be top notch, right? AWE elite team of researchers, engineers, innovators and drivers have track-tested and introduced premium performance upgrades for some of the finest automobiles in the world.
Recently they have broke ground in the Mustang community debuting their S550 exhaust systems in March 2017. Today, they have expanded their Mustang products to the S197 platform! Our good friend Mason, (@mhsupreme), owns a 2013 Mustang GT. Mason installed the Touring Edition Axle-Back Exhaust on his S197.
What's in the box?
Complete Touring or Track Edition Axle-back Exhaust, two 4.5" tips in desired finish, all necessary clamps and hardware for installation and installation instructions.
Tip Options
All tip options include the AWE logo and double walling to ensure a mirror finish even under hard usage. All tips are individually adjustable, allowing depth into the bumper to be set according to personal taste
4.5" slash-cut diamond black tips

4.5" slash-cut chrome silver tips
Mason tells us he was blown away at the quality of this exhaust system. He mentioned that the exhaust came well packaged and secured. Even though the exhaust will be under the car, no one wants to put a damaged product on their Mustang. The first thing he noticed while unboxing the system was the welds.
How easy is the exhaust to install?
Mason has been tinkering with cars most of his life. He is currently a full time tech at a Mercedes-Benz dealership. Even though he works on luxury cars all day, he still enjoys adding new aftermarket parts to his Mustang. He told us that the AWE exhaust installed flawlessly. Below we have listed the steps he took to install his new Touring Edition exhaust system.
Lubricate hangers and grommets.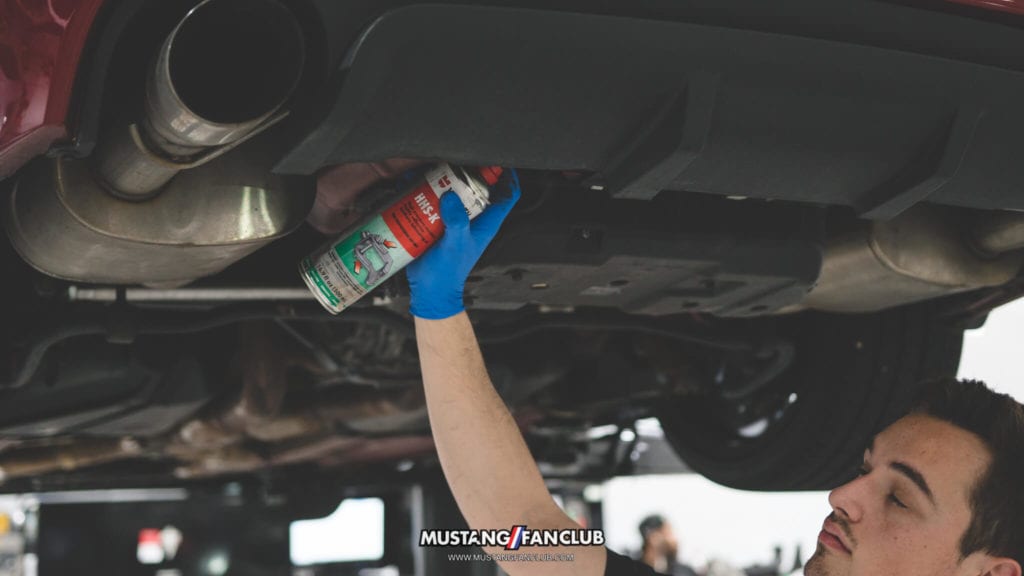 Loosen over axle pipe clamps at the mid pipe.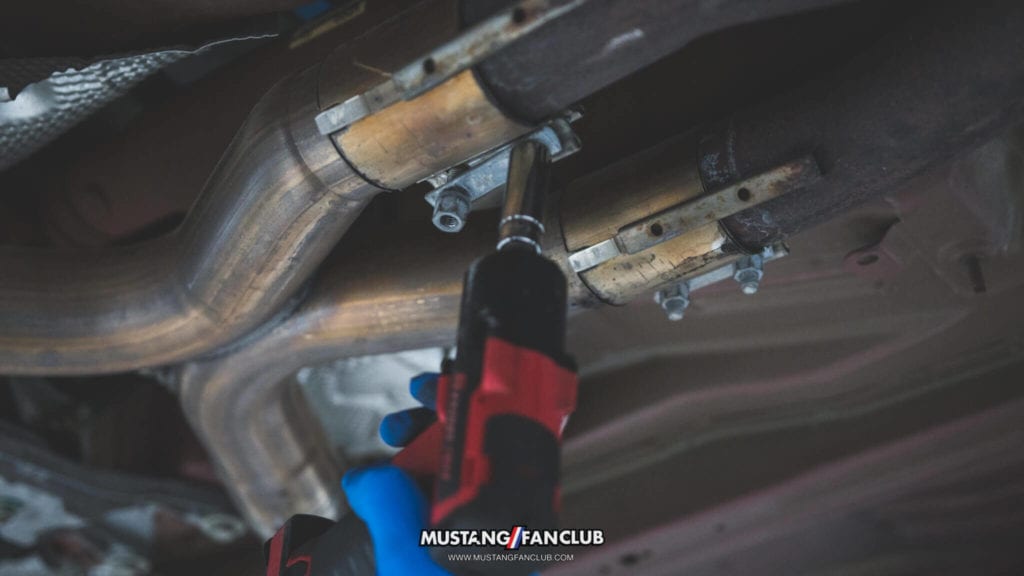 Loosen axle back clamps.
Remove axle back from single hanger grommet closest to rear bumper.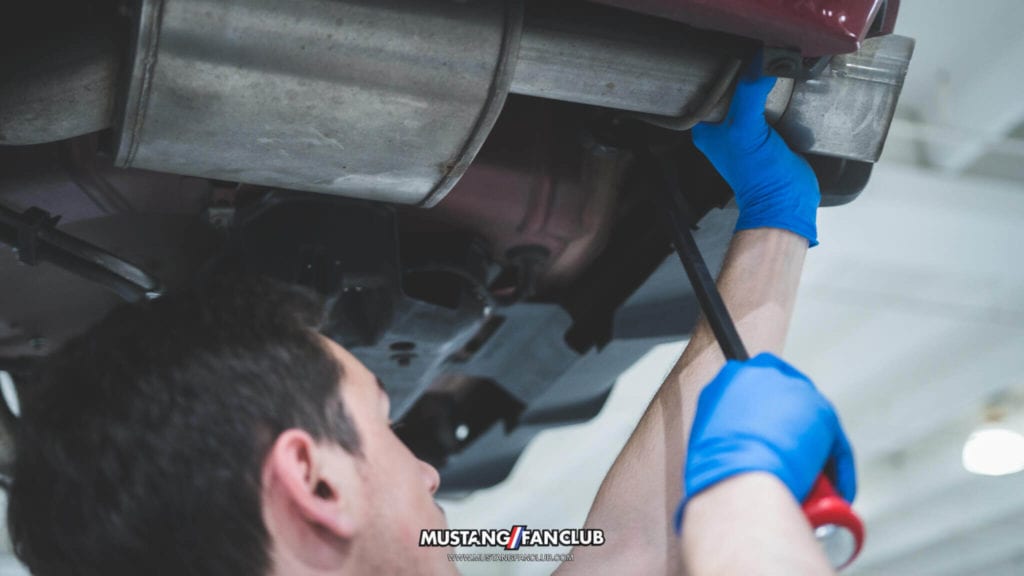 Slide over axle pipe at mid pipe out of clamp.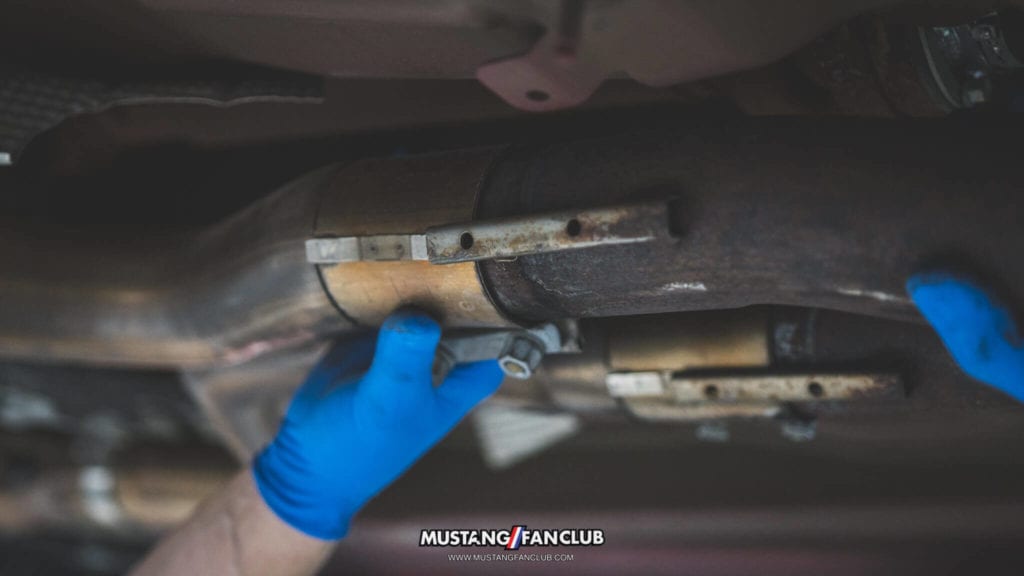 Allow over axle pipes to hang on axle allowing removal of axle back exhaust.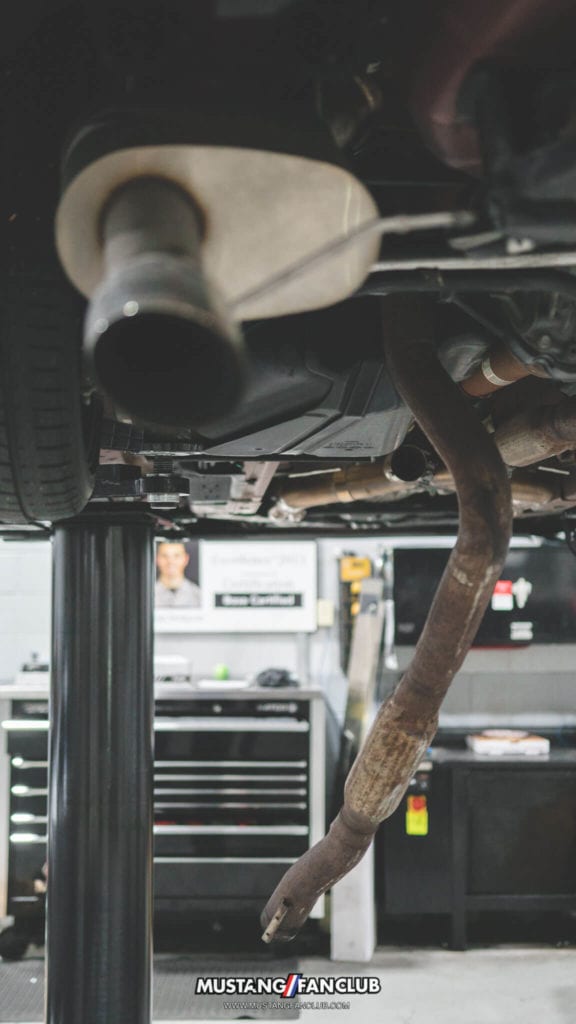 Install AWE Touring Edition axle-back exhaust. Mount over the axle pipe into mid-pipe. (Use rubber mallet to secure into place if needed)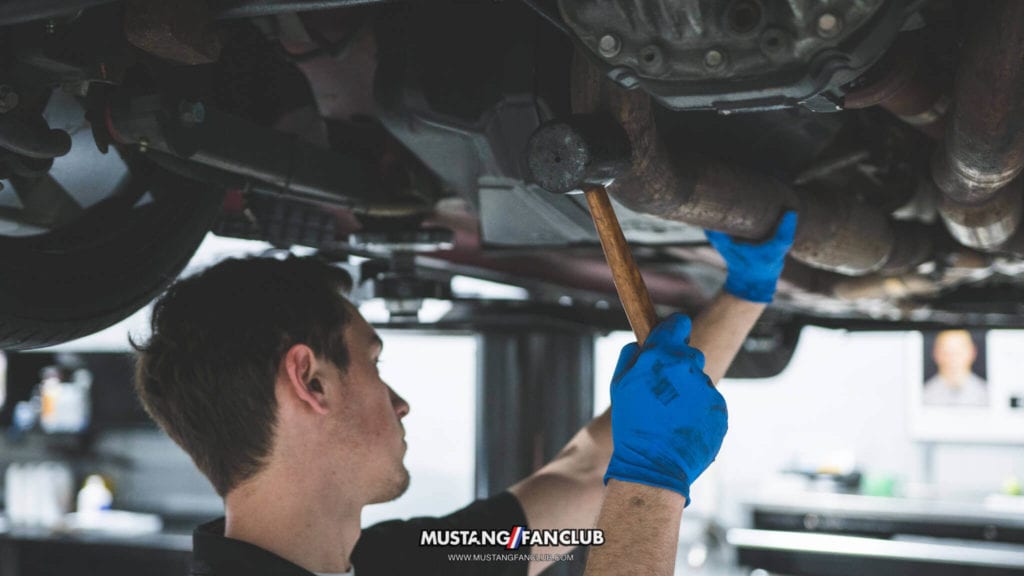 Connect over the axle pipe to axle-back. Do not fully tighten clamp.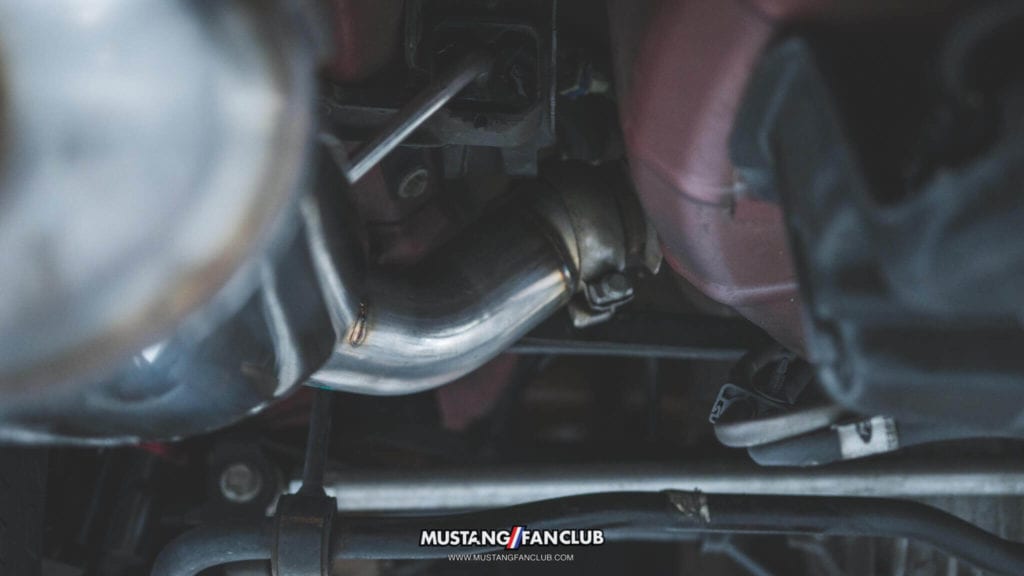 Loosely install exhaust tip. Adjust your exhaust to your preference. Tighten over the axle / axle-back clamp and mid-pipe clamps after the exhaust is sitting in the perfect position.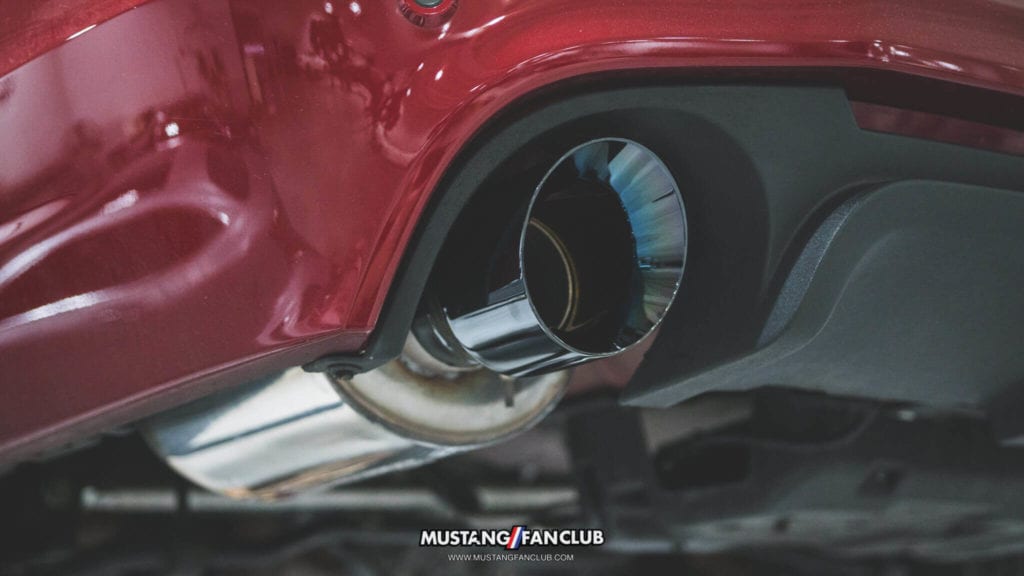 Tighten exhaust tip clamp.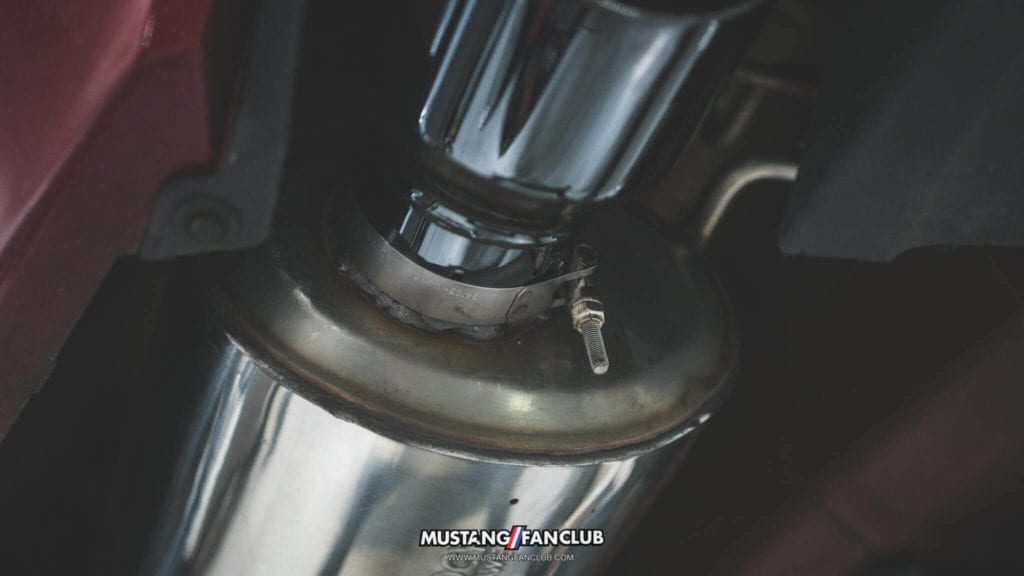 Apply AWE decal. (Adds +5hp)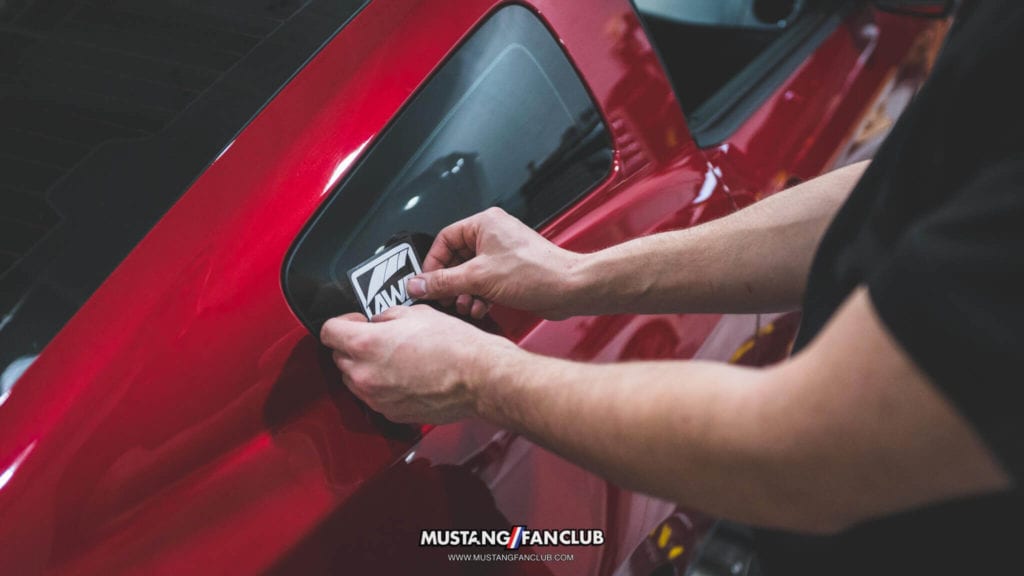 I received my AWE Touring Edition exhaust with Diamond Black tips and I was taken back by the quality of this product. Every aspect of this exhaust was flawless from fit to finish. I would highly recommend this for any S197 Mustang owner wanting a aggressive yet tamed exhaust tone. Their 180 Technology works perfectly by eliminating drone while cruising down the highway. The sound of this exhaust is AWEsome! (5/5 flame emojis)

Mason Hodgson
The Options
The Touring Edition is the perfect configuration for those who appreciate a hearty muscle tone without having to bear in-cabin drone. Construction of full 3" .065"-wall stainless steel while featuring 180 Technology®, the Touring Edition roars when you want it, and quiet when you need it.
Sound Perfection: 180 Technology® by AWE.
As exhaust gases exit the Mustang GT's 5.0L engine and flow into an AWE 180 Technology® equipped resonator, they pass through strategically located ports, and into reflection chambers. Sound waves, carried by these exhaust gasses, bounce off the walls of the reflection chambers. By controlling the size and location of the ports and the chambers, we also control when the sound waves exit the chambers. The specific timing of when the reflected sound waves rejoin the main exhaust flow creates a one-hundred-and-eighty-degree out-of-phase sound wave that cancels out problematic frequencies. More on 180 Technology® by AWE in the tab above.
*Important fitment notes
The factory ball & socket clamp is to be re-used.
If raw and rowdy are your speed, the Track Edition is your dose of steel. The loudest of the lot, the Track Edition Axle-back retains all the engineering and precision of the Touring Edition, including the 3" diameter tubing, minus the 180 Technology®. The result? Completely raw wake-the-dead level muscle.
These versions are known to get rowdy in the mid range, and may be too much for many. For that reason, these particular versions cannot be returned due to sound preference. Prepare yourself!
*Important fitment notes
The factory ball & socket clamp is to be re-used.
No compromises: All the muscle with zero drone




Proudly engineered, designed, and manufactured in-house, in the USA




Touring and Track Edition Axle-back options available




Touring Edition features AWE's proprietary drone-canceling solution,

180 Technology® 


4.5" double-walled tips available in chrome silver or diamond black




Less is more: clean, non-baffled, straight-through design maximizes performance




Handcrafted from U.S.-sourced CNC mandrel-bent .065" wall T304L stainless steel




Direct bolt-on system for factory-like simplicity




Perfect fitment guaranteed




No Check Engine Light – Guaranteed




Featuring the AWE Lifetime Exhaust Warranty
AWE Touring Edition axle-back exhaust sounds!