Harris' Calypso Green Foxbody
"Cars were always an obsession of mine, for as long as I can remember I have been drawing cars, playing with cars and designing them."
Harris Lue is a graphic designer from Charlotte, NC. He is currently employed by NASCAR as one of their graphic designers. He is also a freelance photographer/designer for his own brand LUE Creative. If you've ever looked through a LMR parts catalog you have probably seen some of Harris' work! Let's dive right into the story of Harris' Calypso Green Foxbody.
Harris got "Calypso" at the age of 15 for only $700! "It has been a love affair ever since.", he says. When he first got the Mustang it was in very bad condition to say the least. Over the next few years, he has put countless hours and money into trying to find parts for his newly acquired Calypso Green foxbody.
You may have noticed the graphics package on Calypso. Harris designed all of that for himself to make his fox body stand out in the crowd! "I've always felt like this car was an extension of my personality, it's bright, loud and obnoxious at times but its my car and I wouldn't trade it for anything." said, Harris.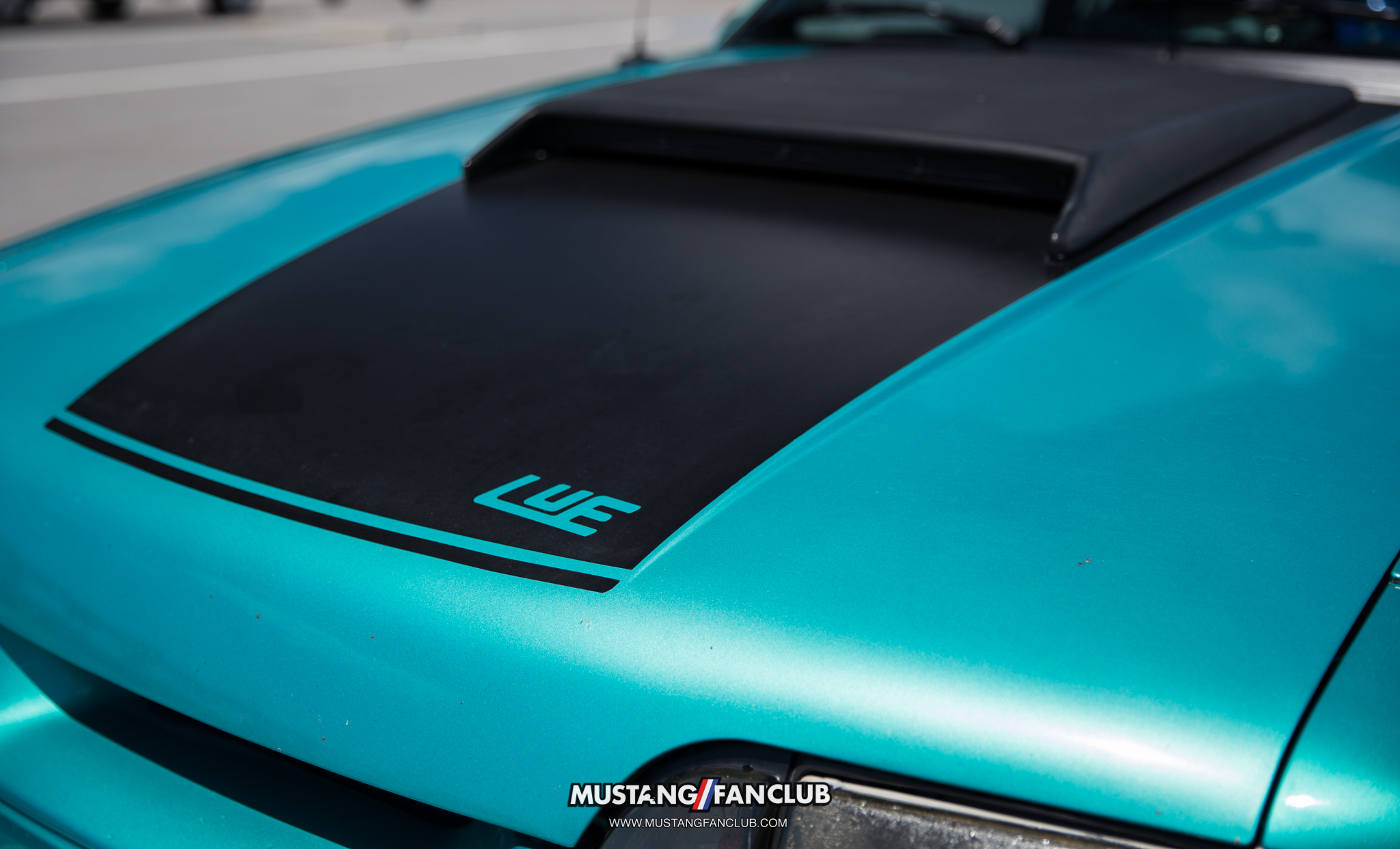 In June 2014, he replaced the original engine with a 2.3L motor from a Thunderbird Turbo Coupe. As far as the engine modifications go, he kept it simple. He did change the down pipe to a larger 3" pipe and added dual glass pack mufflers to get a nice throaty tone!
He had the factory interior completely restored with re-dyed plastic, black carpet and leather seats out of a 04' Mustang. Harris also added a few other unique features in the cabin to make it more his style. Those features include a Grant Formula GT steering wheel, Cobra style 5-speed shift knob, black headliner with sun visor deletes and a map pocket delete.
Modification List
---
Engine: 
2.3L Turbo (Out of a Thunderbird Coupe)
Garrett Air Research T3 Turbo
Exhaust:
3″ Down Pipe
Dual Glasspack Mufflers
LX Stainless Exhaust Tips
Wheels/Tires:
17" Saleen SC Wheels
Nexen N3000 Tires
245/45/17 (Front) and 275/40/17 (Rear)
Appearance:
82′ Mustang GT Hood Scoop
Cervini Grille Bar Delete
04′ Mach 1 Chin Spoiler (Modified to fit)
93′ GT Spoiler and Hatch
Lue Creative/5.0Resto/LMR Graphics Package
Interior:
04′ Mustang Leather Seats
Complete Plastic Re-Dye
Map Pocket Delete
Grant Formula GT Wheel with Quick Release
Black Headliner with Sun Visor Delete
Sponsors/Special Thanks:
LateModelRestoration
5.0Resto
UPR Products
Out to Pasture Pony Parts
Forbes Custom Effects
Rick and Amy Lue